Video is no longer an exotic marketing tactic. It's how your potential customers and target audience consume their entertainment and get information about products and services.
For brands such as yours, video is an excellent way of making inroads into your target market.
The best part is that you really don't need to directly engage your target audience on a one-to-one basis.
As a result, video has become more than just another marketing tactic. It is now an essential part of the customer experience cycle.
This blog will discuss why video should be at the center of your website experience. Then, we'll explore how you can add videos to your website using a WordPress video plugin.
Finally, we'll close with several actionable tips on how you can use videos to improve the user experience on your website.
Why Video Should Be at the Center of Your Marketing Strategy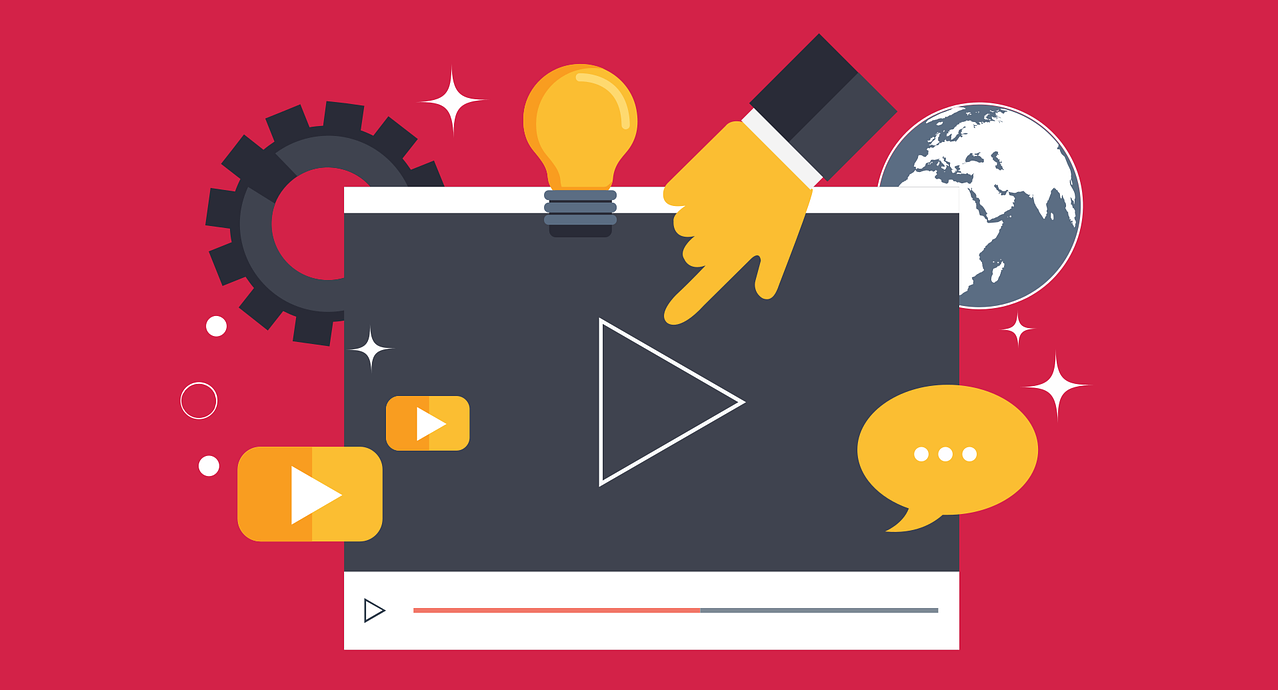 Video has effectively replaced almost all other formats that were once considered essential to the marketing mix. Nowadays, marketers rely upon long-form content supplemented by videos and video-centric landing pages to present information and brand offers.
The rise of video to this prominence is mainly due to the following reasons:
We Process Video Content Faster and Better
Humans have evolved to process visual input faster. Over time, our brains process visuals much better than other inputs such as audio and touch.
For marketers, this solves a crucial challenge – getting people to look at their ads. When compared, video ads perform significantly better than text-based ads.
This brings us to the second reason.
Videos Are Ideal for Our Short Attention Span
Study after study has shown that our attention span on the internet is a maximum of five minutes.
This means you have less than that to impress your audience and capture their attention.
Video is the ideal format for this situation because it can deliver a lot of information in a very concise package. Usually, the videos are kept within three to five minutes to ensure that viewers do not get bored and move off the page.
Videos Generate More Traffic
Videos get at least 10% more clicks than other content formats. As a marketer, you stand a better chance of generating traffic from a video than a blog post. You can schedule Instagram posts with videos to create more buzz about your product.
This is good news because it simplifies strategy for marketing teams that have traffic as an important target. These teams could focus their attention on videos and achieve the target easier than with other forms of content.
Videos Convert Much Better
All the above reasons converge on a simple fact – video converts more than other formats.
It is estimated that 64% of visitors watch a product video before making a buying decision.
The same is true for how-to videos that generate more views and conversion.
Videos showcase the products and services and help the viewers make up their minds. Since we are visual-first creatures, this works in our favor.
What Type of Videos Should You Try?
Now that we have established the benefit of using video in your marketing mix, it's time to check out the types of videos you can make for your brand.
The following list covers most of the ground when it comes to video production options.
You'll notice that it doesn't include ads because video ads are a category in their own right. This list covers videos that brands can use as part of their marketing strategy and get short- and long-term benefits.
How-to Videos
How-to videos are an excellent opportunity to combine the utility of your products and how users can use them to solve their problems.
These videos generally demonstrate a specific way of using a product. As such, the script needs to be very focused and shouldn't distract from the product presentation.
Generally, how-to videos are popular with beauty and self-care, home improvements, and culinary-focused brands. When opting for this type of video, it is always good to ask an influencer to create and market it.
This helps the brands tap into the influencers' communities with minimum effort.
Review Videos
It appears that review videos are the exclusive domain of influencers. Instead of investing in this type of video, brands often send PR packages to influencers. The influencers then present the product to their audience in a single or a series of videos.
Brands often use these videos in their marketing campaigns as middle-of-the-funnel content to convince the target audience to opt for their products.
Explainer Videos
Explainer videos are all about demonstrating the product or service. Generally shorter than review videos, they often follow a fixed format that covers the what (the introduction to the product), how (how the product resolves a pain point), and why (how your product is the best fit for the target audience).
Explainer videos are traditionally animated using chalkboard or character-driven script.
However, you'll also see live-action explainers presented by a spokesperson or founder.
These are often found on the homepage, About Us, or custom feature pages.
Q&A Videos
Q&A videos are essentially FAQ in video form. For brands that can afford it, these videos can be hosted by celebrities to increase their engagement and reach or by trusted staff members to add credibility.
Along with explainers, Q&A videos bolster the current customer base and help penetrate untapped audience segments.
"Behind-the-Scene" Videos
These present a candid and seemingly unscripted view of life at the brand. This is an excellent idea of presenting the brand as a place run by people similar to the target audience.
Some brands in the tech industry have elevated this to the fine art of "Building in the Public."
This series of videos is often published on the official website and social media channels at regular intervals. Having an idea on how to manage all social media in one place is important if videos are being published at the same time.
You can opt for these videos to build the pre-hype around the product and gather interested people into a dedicated community.
Testimonials/Endorsement Videos
Perhaps the most popular type of videos, customer and vendor testimonials, are a great way of leveraging the power of social proof for your brand. They present your brand from the perspective of people who are very similar to your target audience.
For viewers, this puts a human face to your products and services. This helps potential customers evaluate your products after viewing the opinions of people they trust.
Vlogs and Infomercials
Brands generally do not produce vlogs because this type of video is better suited for individual content producers. However, that doesn't mean brands cannot make use of these videos in their marketing strategy.
Generally, brands hire influencers to create vlogs for them. This is a win-win for both parties. The content creator gets the backing of a brand (along with product samples and free service try-outs), and the brand gets content they can share with their followers.
Interviews
Interviews with prominent names in the niche have remained a popular tactic for getting the attention of a target audience. People might not know your brand, but they are likely to know the person(s) you'll be interviewing.
Brands often invite either their biggest users or industry experts to answer a list of predetermined questions. Interviews with experts generally perform well because of the perception of neutrality.
Webinars
Webinars became popular in recent years when the world was going through the COVID pandemic. Then, it was the only way brands could engage both the influencers and their audience.
The trend endures with as many as 95% of the surveyed marketers saying that webinars would continue to be an essential part of their strategy.
Many people see webinars as a great way of learning new ideas and connecting to influencers. With the rise of webinar-specific platforms and WordPress video player plugins, everyone can manage these events.
Now that you can pick what type of videos you'd like to create to target your audience, let's address an equally important question.
What Video Formats Should You Use?
A video format is a container for the actual video data, the video metadata and additional information such as subtitles.
These formats are combined with codecs, special programs that compress (called encoding), and decompress (called decoding) video files.
This process is essential for using videos on your website because of the huge size of the video files. Once a file has been encoded, it is packaged into a video format.
While there are several popular video formats, there are five options you should consider in the context of using video on your website.
MP4
MPEG Part 4 was introduced in 2001. Since then, it has become the favorite format for audio and video files. MP4 is widely supported, and almost every device and browser in the world can play MP4 files.
The file size is small, thanks to the MPEG 4 algorithm. However, this small size comes at the cost of quality. The loss in quality isn't noticeable, and the small size of the file makes up for the difference.
MOV
MOV was developed by Apple, initially for QuickTime Player. Since then, it has been ported to Windows and Linux as well.
The format supports audio and video. In its current version, it is closely related to MP4. MOV files are often larger than MP4 because there is a slight loss of quality during the encoding process.
WMV
Windows Media Video was developed by Microsoft to play media on Windows systems. The file size is slightly smaller than MOV, and WMV was a popular format for streaming videos.
However, like MOV, the format is supported across all operating systems and browsers.
AVI
AVI has been around since 1992. The format is considered lossless and generates enormous files. Because it's lossless, there is little to no compression and the consequent loss in the quality of the video.
Despite the very high quality, you'll rarely see AVI in the online video because of the huge file sizes.
WebM
WebM is the newest kid on the block. It was developed by Google in 2010 as the video format for the internet. The main idea behind developing WebM was to develop a format that would require minimum computing power for encoding.
Given its small size, it is a great option for online videos and streaming media.
When choosing a video format for your videos, you need to find the right balance between quality and speed.
The formats that retain the highest video quality require more bandwidth and time to be downloaded. This can degrade the user experience.
On the other hand, the formats that could be quickly downloaded often sacrifice quality for the small file size.
If you have to choose just two formats, we recommend opting for MP4 and WebM because of the balance between file size and quality.
Where To Host Your Videos
You know what type of videos to create and what formats to choose for your videos. You now need to consider an equally important ingredient of a great video experience.
I'm talking about hosting the videos you make.
When discussing video hosting, you need to understand an important point – lag or stutter in videos ruin the experience.
Once that happens, the visitors switch off and you might lose them altogether.
When hosting videos, you have two options:
Self-host Your Videos
Self-hosting refers to the practice of uploading videos to the server that hosts your WordPress website. As you can imagine, it is relatively easy to do and doesn't add much to the operational costs.
However, this idea comes with a severe downside.
Videos hosted on the server add a significant performance penalty. Web servers are designed to serve websites, not videos. The more popular your video becomes, the more server resources are used.
Eventually, your website will slow and playback will suffer.
Hosting Videos on Third-party Websites
An alternative to self-hosted videos is hosting your videos on third-party hosting platforms specializing in video hosting and delivery.
You need to set up a WordPress video player plugin on your website for this to work properly.
These plugins take the public link provided by the hosting provider and embed a player at your preferred location on a web page.
While hosting might add a little to the operational costs, you have a very reliable platform that simplifies the overall process of using videos for your brand.
As video is hosted separately, it doesn't matter how popular it gets or how many people view at once, it will never impact your website performance.
We strongly recommend hosting your videos at a third-party hosting provider and using Presto Player to embed the videos into your website.
Here's why.
Presto Player – The Player That Works Every Time
Now that you have your videos, and they are hopefully hosted at a third-party hosting provider, it's time to show you how you can use the Presto Player plugin to embed and display them to visitors.
Presto Player is more than just a simple video player. It's a powerful solution for using videos as a component of your marketing strategy.
Let's start with a quick demonstration of embedding a video hosted on YouTube.
We recommend you copy the public YouTube link before going through the following steps.
Embed a Video
Presto Player comes with a YouTube block that streamlines the process of embedding a video.
Start by adding the Presto Youtube Block.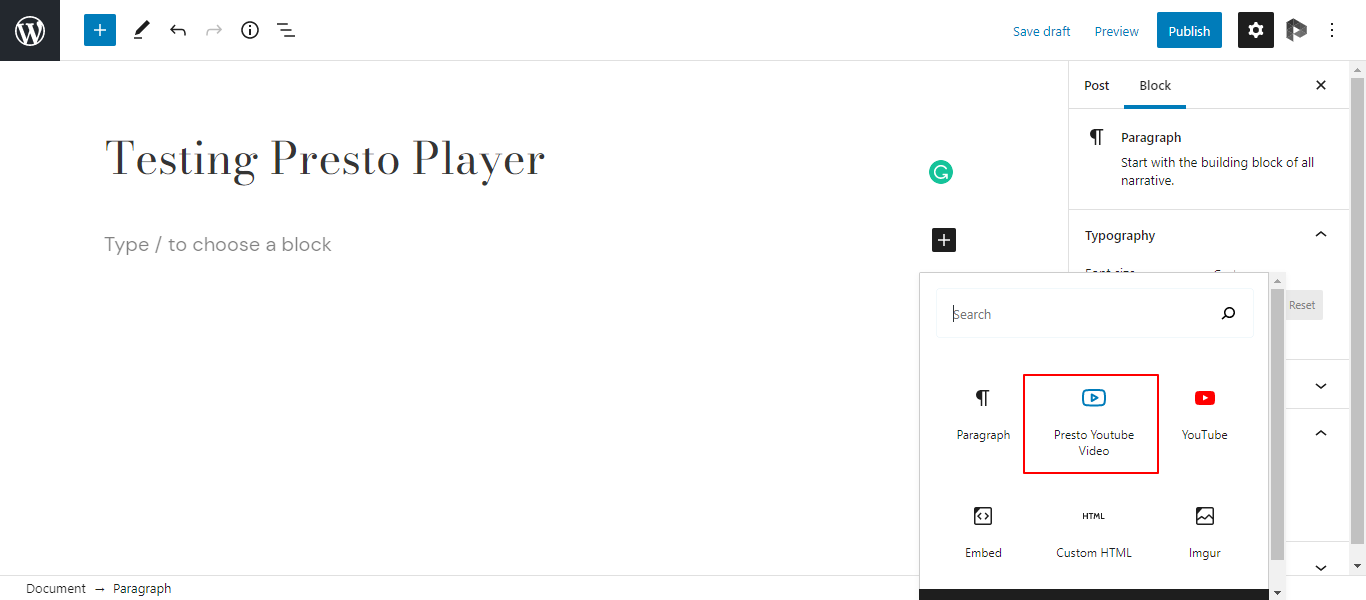 Add the YouTube link to the field and click Add Video.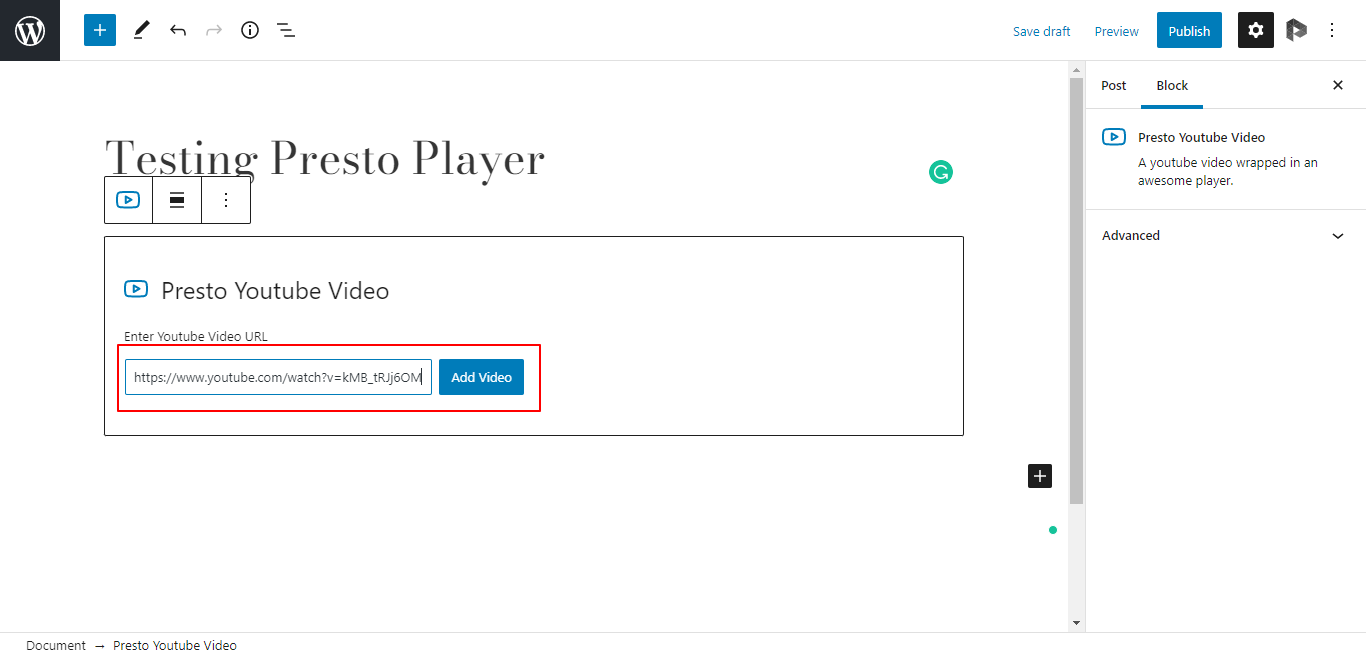 At this point, the video is ready to be embedded. All you need to do is to publish the post, and the video will be available to your viewers.
Add Your Branding to the Player
Presto Player simplifies adding your brand colors and logo to your videos. This adds a lot of credibility.
Here's how you can add your brand colors and logos to your videos.
While adding the video link, scroll down to the lower half of the sidebar, and you'll find the Global Player Branding option.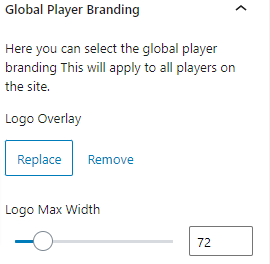 Click Replace, and add the logo. You can also adjust the width (and height) of the logo overlay.
This will add your logo to your videos. Note that this change will be applied to all the players on your website.
Muted Video Autoplay
Playing video on mute when the page loads is a great way of attracting visitors' attention in a very subtle manner.
The video continues to play without sound as they arrive. This often intrigues viewers, and they click just to find out what the video is all about.
To set up the video to play on mute automatically, go to the sidebar, and simply toggle Muted Autoplay Preview.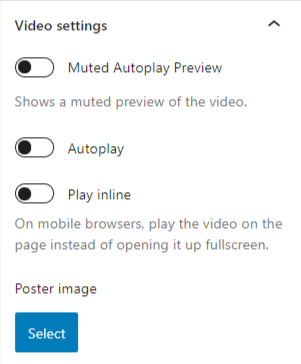 While you are there, you can optionally set up a poster image for the video.
Use Presets For a Great Experience
Presto Player comes with many options and features, including email collection gates, video playback control placement, customizable CTA, and an Action Bar.
While you can set all these options individually, it takes a lot of time and effort. Presto PLayer has helpfully grouped these settings into groups known as presets. Presto Player comes with five presets.
Since this demo is about a YouTube video, we selected the YouTube Optimed preset. This changes the position of the playback controls and adds a channel subscribe call to action.
Tips For Delivering A Great Video Experience
By now, you have a clear idea of the essentials of delivering a great video experience to your visitors. You have also seen how Presto Player adds great value to your website marketing efforts.
The following list of tips will further help you use the above ideas and bring everything together in a superb experience for visitors.
Quality Over Everything
Video is a very competitive format. In order to catch the attention of your target audience, you need to make sure your videos are of the highest quality possible. Video quality is a combination of a great script, production quality, and slick post-production.
Keep It Short
It is very rare for a long video to retain viewers' attention till the very end.
The current wisdom is to keep all videos under two minutes. However, this is not a hard-and-fast limit. While the two-minute rule is great for social media content, the right length of any video is determined by how the video will be used.
That's why you'll find ten minutes+ explainer videos because it is often impossible to explain a complicated product feature in under two minutes.
Invest in the Process
Investing in video production is not just a matter of increasing the budget. It's a matter of improving the quality of production by onboarding better talent, and of course, better equipment.
It also means investing in improved post-production. Together, these improvements would come as enhanced production value of your videos.
Keep the Goals Clear at All Times
You have clear goals at the start of the video. However, if you don't keep your focus, you might find that the script might have very different outcomes.
You want to avoid this and make sure the goals remain in sharp focus. If you zone out in the planning phase, you may find the video is not a good fit for the intended purpose.
Write the Script From the Viewers' Perspective
Brands often forget that videos are about the viewer. The video is targeted toward the viewer and thus must be about them.
Make sure the script and the storyboard describe the idea from the viewers' point of view. They should be entertained and lured in first.
Only when they are hooked can you slide in your pitch. If you start tooting your horn at the start, the viewer would quickly go to the next video.
Choose Your Hosting Platform Very Carefully
Your video hosting platform can make or break your video marketing campaigns. That's why it's prudent to try out several different platforms before committing.
Where you would display the videos and what role they play in the marketing strategy are two essential considerations. Next, you need to evaluate how the platform works with your website and video player plugin.
Once you have shortlisted a few options, it is important to try each candidate with real videos to uncover any underlying issues before you pay for a subscription.
Make Sure Videos Are Sharable
Ideally, the viewers should be able to share the videos directly from your website. To incorporate social media marketing into WordPress websites, a quick and easy solution is to install a social sharing plugin. This can be a crucial step in implementing an effective social media marketing plan.
A word of caution is appropriate here:
Test the plugins on a test site to assess the impact on performance. Never install a plugin directly to the production website without testing first!
Watch Page Load Times at All Times
Page load time is the primary performance metric that you should watch very closely. Uploading video to the server or embedding them into the webpage can affect the page load time significantly.
Ideally, you should check page load speed after every addition.
However, this is often not possible for many business websites. For such websites, you must make a point of checking the page load speed at least twice a week.
Ask Subscribers and Influencers To Spread the Word
Videos require a lot of investment of both time and resources. So when you have created something worth your audience's while, you shouldn't shy from asking them to share it with their friends.
This tactic can be scaled up by onboarding influencers that are popular among your target audience. Often, people follow influencers because they filter out the content and only promote "worth-watching" videos.
Conclusion
A great video experience on your website is a combination of fast-loading pages and smooth-rolling videos.
Videos are central to the marketing strategy of many brands. Making sure visitors enjoy the videos and get what they are looking for (whether it's information about your product or just a quick laugh) lies at the heart of a great video experience.
Providing this experience is easy – simply have a fast website, host your videos on a high-performance video host, have a WordPress video player plugin on hand (we hope it's Presto Player), and then create some great video content.
That's all there is to it!
Let us know in the comments below if you have a secret tip for creating and delivering a great video.