Some people might be thinking, why would I use Presto Player with Bunny Stream versus using Bunny Stream direct? Bunny Stream, in their words, "solves the hassle of video delivery by packing transcoding, storage, security & a video player into a simple, but powerful package." Emphasis on video delivery 😉.
At Presto Player we think Bunny Stream is great for video deliver and we have fully integrated it into Presto Player.
Part of Bunny Stream services is the ability to embed your video into any website platform, including WordPress.
So that begs the question, why do you even need Presto Player any longer? In fact, we had a customer reach out to us to ask us that very question.
We quickly came up with 23 reasons why Presto Player is the essential WordPress video player plugin if you want to use Bunny Stream on WordPress websites.
Presto Player Vs Bunny Stream
While this isn't a direct comparison since Presto Player doesn't transcode video or distribute it via a content deliver network, this is more of a list of 22 things Bunny Stream doesn't offer for WordPress users and some of they are a VERY big deal.
1. Performance Optimized (Bunny Stream will slow your website down)
We think it's fitting to start with website performance. With the upcoming Google Core Web Vitals, website performance is more important than ever.
Since Bunny Stream is an external service, you have to use an embed code to add a video to your website which will add significant page size and additional requests to your website performance.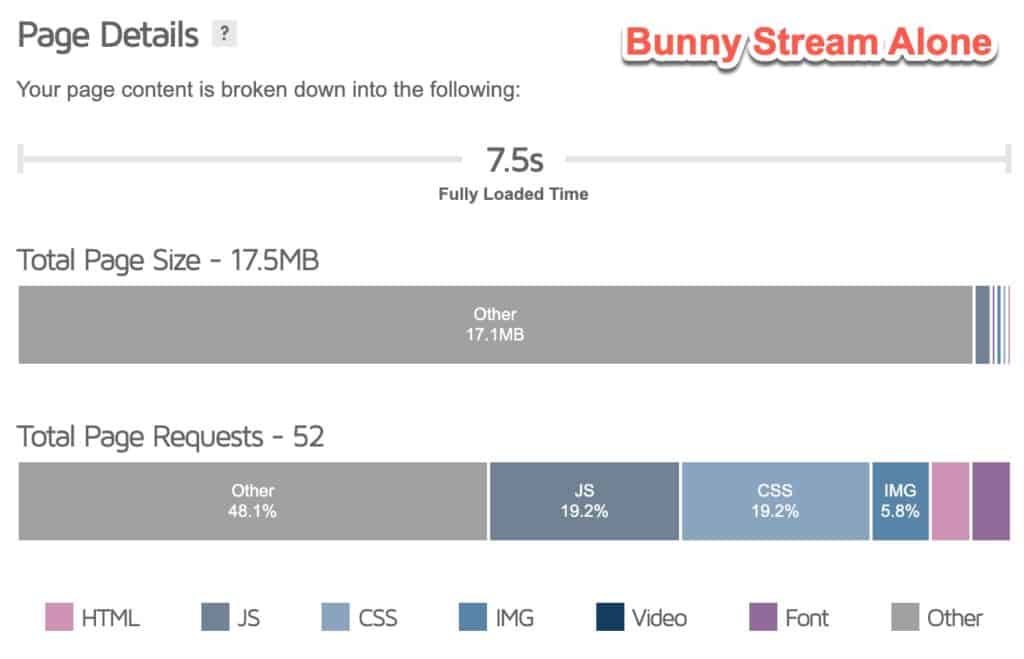 Bunny Stream Alone
Load Time: 7.5 seconds
Total Page Size: 17.5 mb
Requests: 52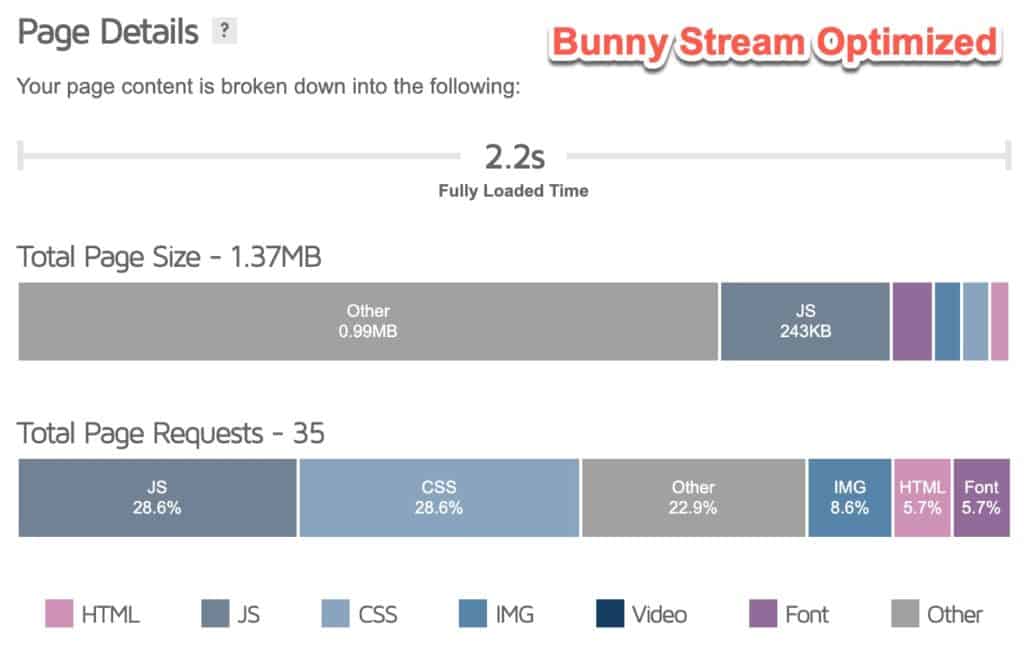 Bunny Stream Optimized
Load Time: 2.2 seconds
Total Page Size: 1.37 mb
Requests: 35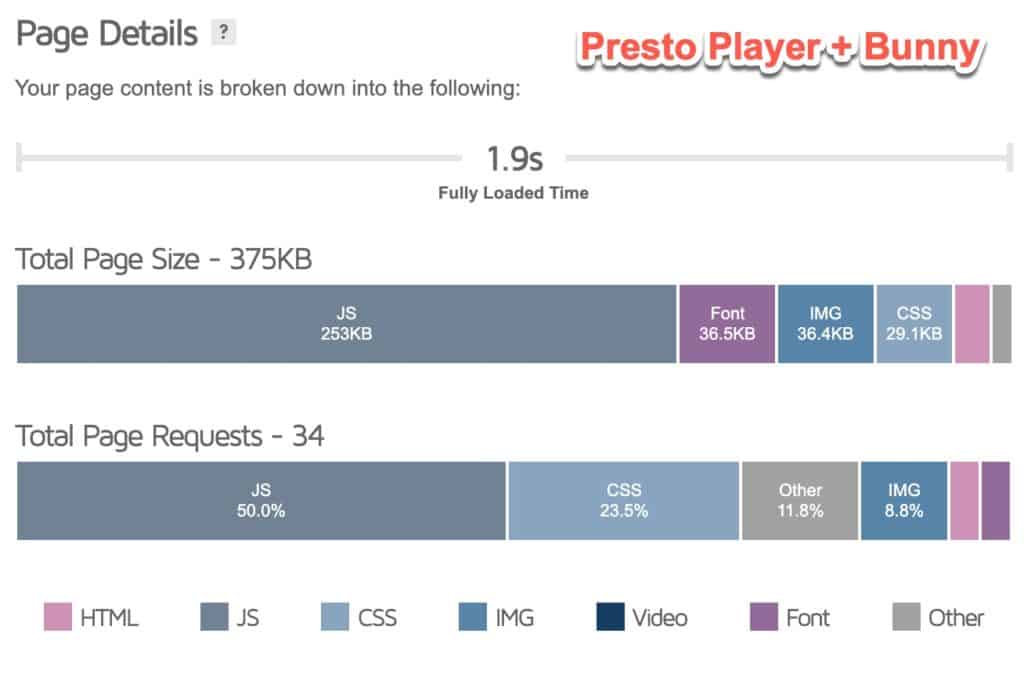 Presto Player With Bunny Stream
Load Time: 1.9 seconds
Total Page Size: 375 kb
Requests: 34
As you can see, with Bunny Streams default settings, the performance impact is very significant.
Thankfully Bunny Stream has an option that you have to manually enable for each video that can improve the performance impact, but it's still much less performant than when you use Presto Player for Bunny Stream videos.
While Bunny Stream videos by themselves have a negative performance impact, you can make your videos 4X lighter for a faster load time with Presto Player.
2. LMS Integrations (Bunny Stream has zero WordPress integrations)
One of the main reasons people have videos on their website are for their online courses.
Most online course providers such as LearnDash, TutorLMS, and LifterLMS have features that are dependent on the online course platform knowing if a video has been finished or not.
For example, LearnDash calls it video progression. You can configure it so a student can't progress in the course unless the video lesson was fully watched to the end. Or you can configure it so that at the end of a video the lesson is automatically marked complete and the learner is taken to the next lesson.
When we launched Presto Player this was the biggest request from these online course users, so we prioritized integrations with the top platforms.
When using Bunny Stream without Presto Player, you will lose out on this capability and you course will be less learner friendly.
While Bunny Stream doesn't offer LMS Integrations, you give your students the best experience with Presto Player.
3. Player Presets (All videos look the same with Bunny Stream)
One of our customers favorite features is player presets because it enables you to add functionality and style to your videos.
You can create a preset and apply it to any number of videos. If you ever want to change a setting in a preset, you only have to make the change one time in one place and the change will apply to all of your videos using that preset.
Currently, the main options in presets include:
Player button controls
Player skins (more on that in the next section)
Auto hide settings
Save play position (more on that below)
Sticky on scroll
Style options for colors and rounded corners
Email capture opt in gate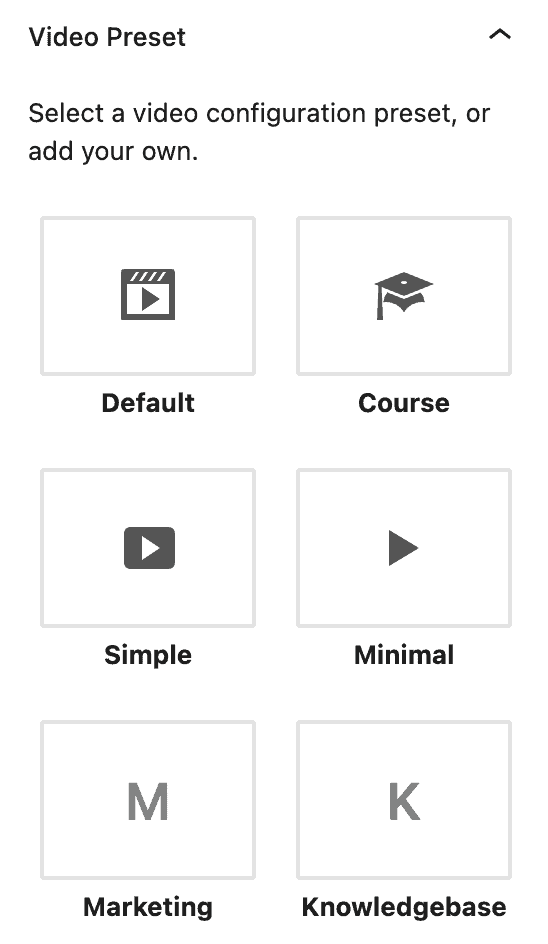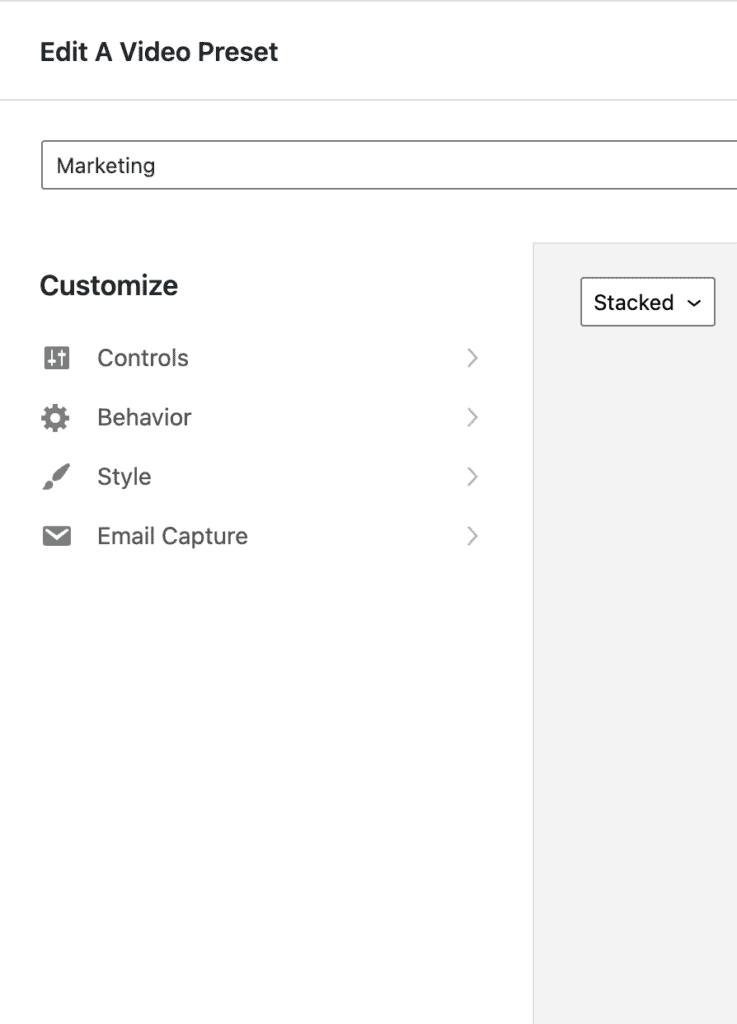 When using Bunny Stream you are able to set the player color and player button controls, but they apply to all your videos.

While Bunny Stream doesn't offer Player Presets, you can have this feature with Presto Player.
4. Player Skins
When creating Presto Player we realized that the default player skin looks very crowded when you have too many player button controls.
So to solve this problem we introduced skins which gives you multiple layout options for your player.


See how cramped it can get when you have multiple player button controls and how one of our custom player skin improves the viewers experience?
Refinements like this make a big impact on your video viewers experience.
While Bunny Stream doesn't offer Player Skins, you can have greater style and control over your video player with Presto Player.
5. In Content Time Stamp Links And Chapter Markings
If you have videos that are longer than 10 minutes, Presto Player chapter markings feature will help your viewers get through the video with ease.
Chapter markings are so important and practical that YouTube rolled the feature out to their entire platform.
With Presto Player it's easy to add chapter markings to your videos in a few clicks. And it's even easier for your viewers to jump back and forth in your videos.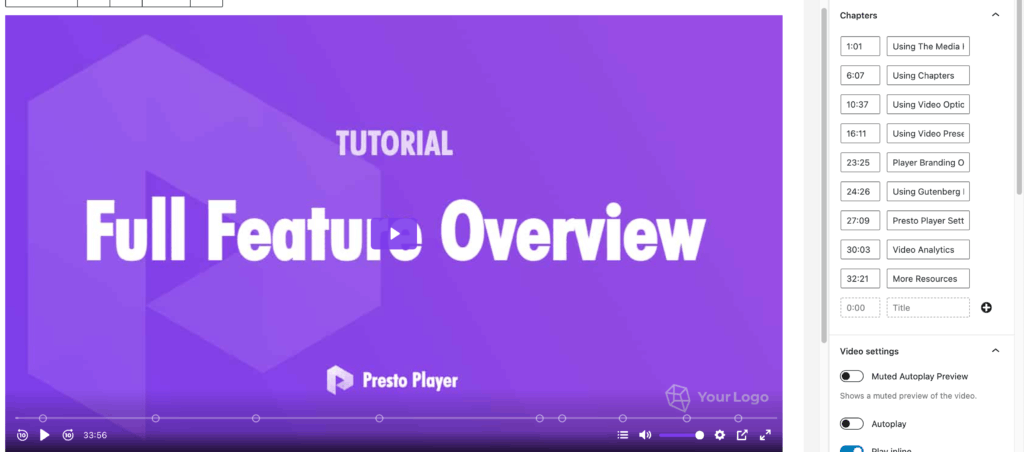 Chapter markings like this are an essential part of any video viewing experience and with Presto Player you get them.
While Bunny Stream doesn't offer Chapter Markings, you can make watching your videos a better experience with Presto Player.
6. Muted Autoplay (See it to believe it)
Self admittedly, this is my favorite feature in Presto Player. And not just me, our customers love it.
It truly makes your videos irresistible, people have to click play.
Muted autoplay allows you to autoplay your video muted while displaying closed captions. You can even add an eye-catching overlay image like we do on the Presto Player homepage.
This style of video is so popular, you see it all over social media and on the most popular websites because they instantly grab visitor's attention.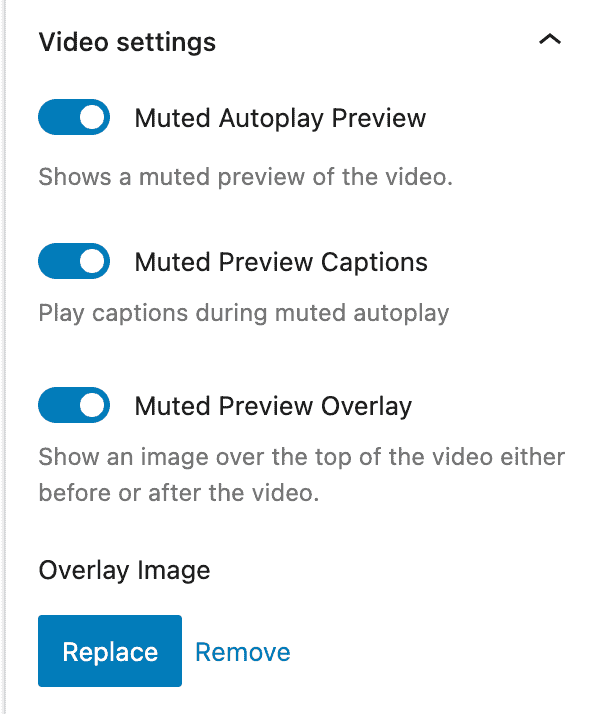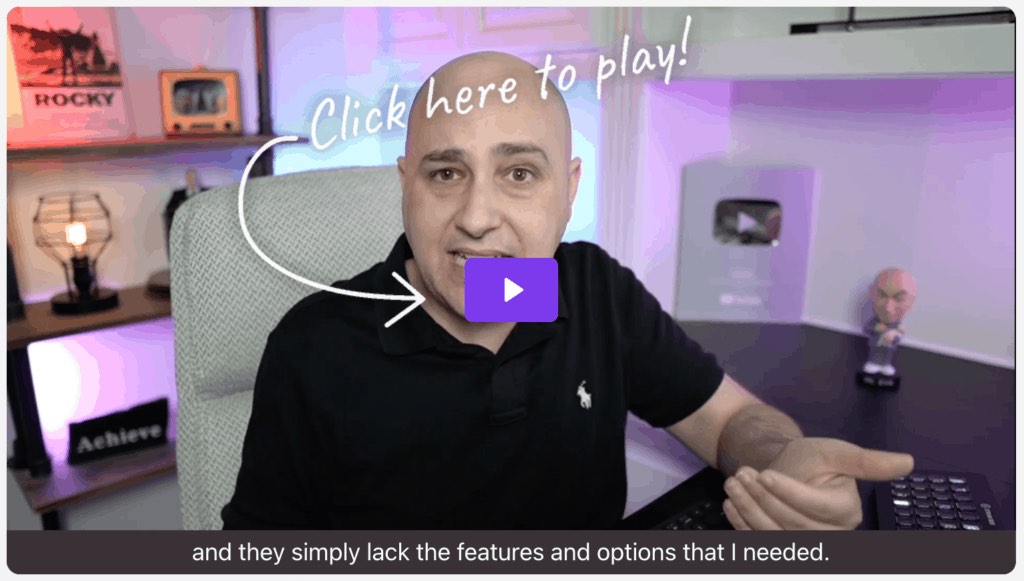 We even give you the option to brand the captions style to your colors. Heck there are even multiple caption style layouts for you to choose from.
While Bunny Stream doesn't offer Muted Autoplay, you can have this feature with Presto Player.
7. Lead Capture
Want to grow your list through video? This is one of our more recent features which allows you to have an email optin gate appear before a video, during a video, or at the end of a video.
Once you capture the viewers email address, you can use one of our email marketing platform integrations to send their info into a marketing campaign.
This feature is so smart that it will remember when someone has given you their email address and not ask them for their email again across your entire website.
And this feature is found in our Player Presets so you can apply it to a group of videos at the same time.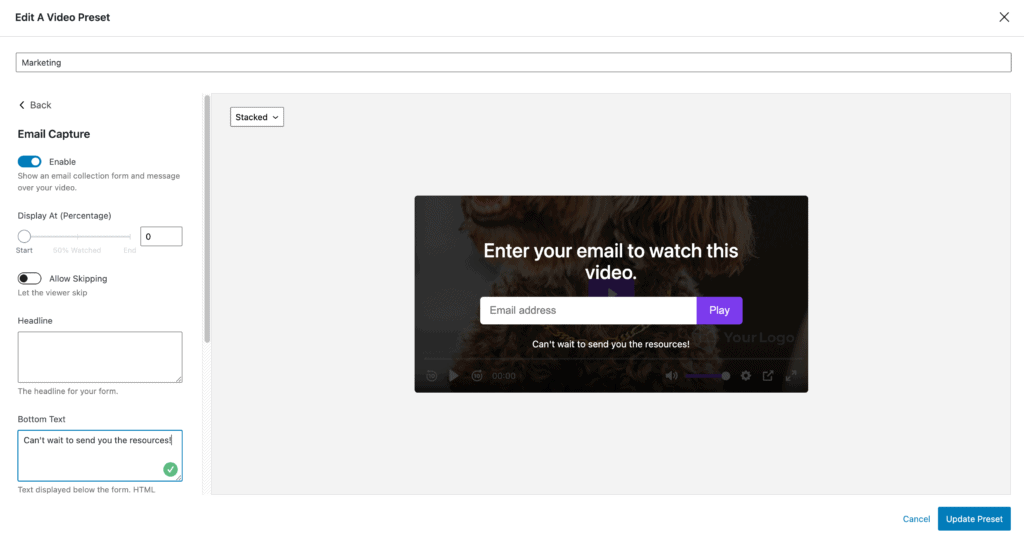 Our lead capture feature offers many options and is completely customizable.
While Bunny Stream doesn't offer Lead Capture, you can have this feature with Presto Player.
8. Saved Position & Preferences
We should make watching videos on our websites easy and convenient. What's the point of having a video player with options such as increased playback speed & volume when your viewer has to reset those options for every video they watch on your website.
It sounds like something that every video player should have right? Wrong! None of them have it.
But Presto Player does. We drop a cookie on your viewers computer to remember their preferences, and we even remember where they left off in a video so when they return they can pick up where they left off.
Best part is that it's a player preset that we talked about above. So you can enable it for a group of videos.

While Bunny Stream doesn't save your viewers settings, you can have this feature with Presto Player.
9. Sticky Player On Scroll
If you have a video in a blog post or online course lesson, and there are other contents there where the viewer may want to scroll down the page, with this feature the video can sharing and stick to the corner as they scroll.
You see this all over the internet, on Facebook, on new websites, sales pages, everywhere.
This also is a player preset.
While Bunny Stream doesn't offer sticky on scroll, you can have this feature with Presto Player.
11. Logo Overlay
Want to further place your brand on your videos. You can do this the easy way with our logo overlay feature.
Simply upload your logo, adjust the size, and your set.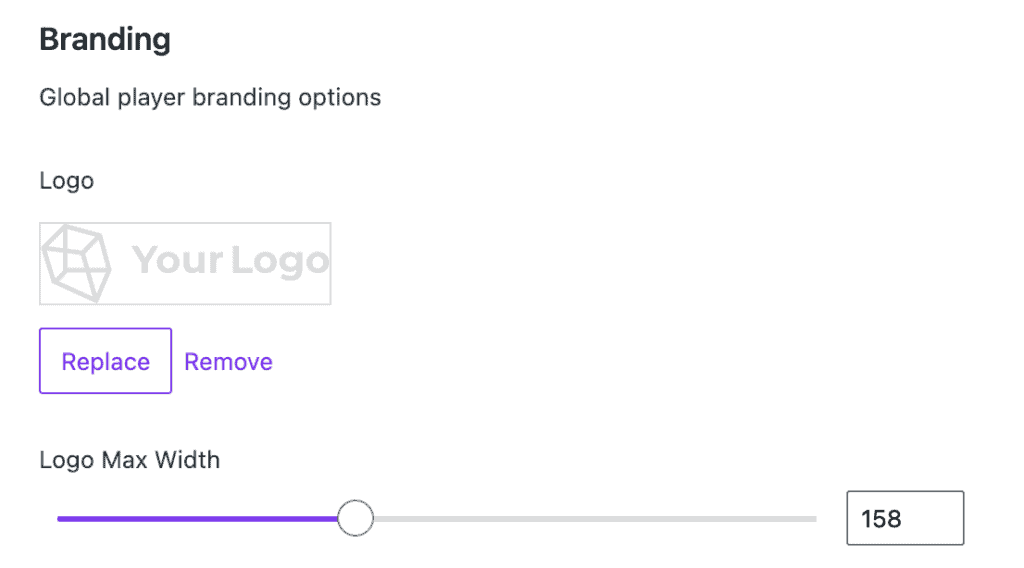 You can also disable the branding as a player preset.
While Bunny Stream doesn't offer a logo overlay, you can have this feature with Presto Player.
12. Local Analytics & Google Analytics
Want to know what is going on with your videos. Who is watching them? How long are they watching for?
It's pretty important!
Presto Player offers local analytics and also deep Google Analytics integrations so you can always know who is watching what and for how long.
Presto Player tracks everything for you.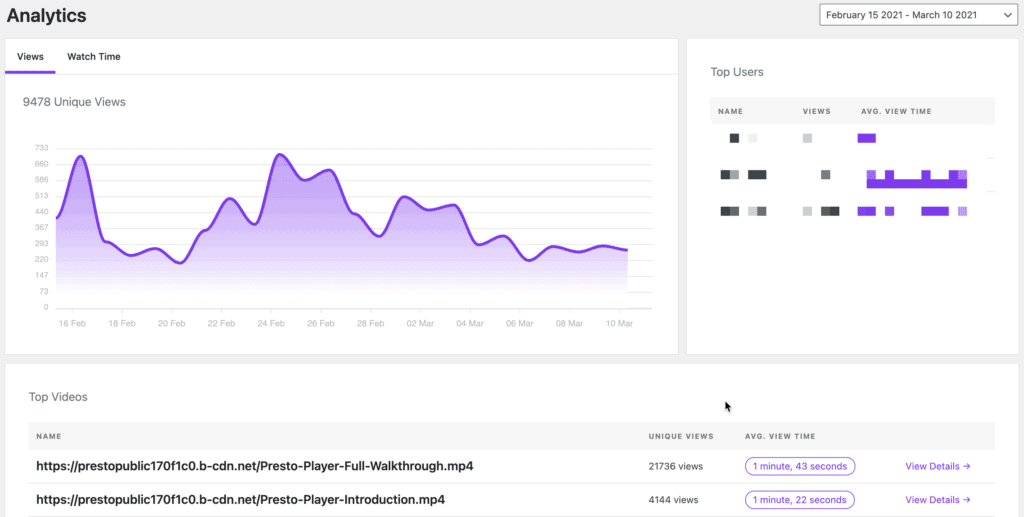 Presto Player has analytics for:
Views
Watch Time
Top Viewers
Audience Retention
And more
While Bunny Stream doesn't offer any stats or analytics, you can track everything with Presto Player.
13. SEO Integrations
If search engine traffic matters to you, why not get more website visitors with Presto Player?
Because Presto Player is deeply integrated with WordPress and all the top WordPress plugins, you can SEO optimize your videos on autopilot.
Automatically add all the proper video schema to each video and have a video sitemap generated.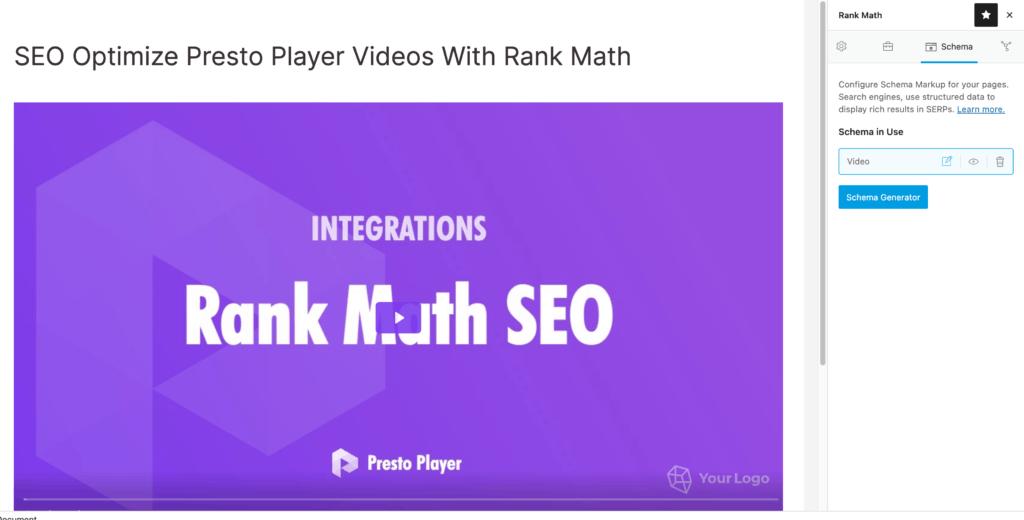 Bunny Stream doesn't offer any schema markup and because it uses iframe embeds your videos will be invisible to search engines. However, you can automatically SEO optimize all of your videos with Presto Player.
14. Page Builder Integrations
Being that Presto Player is a WordPress plugin, we natively integrate with various page builders such as Elementor, Beaver Builder, and Gutenberg. You can even use dynamic content in Presto Player.
When using Presto Player in your page layouts, you get a true visual experience.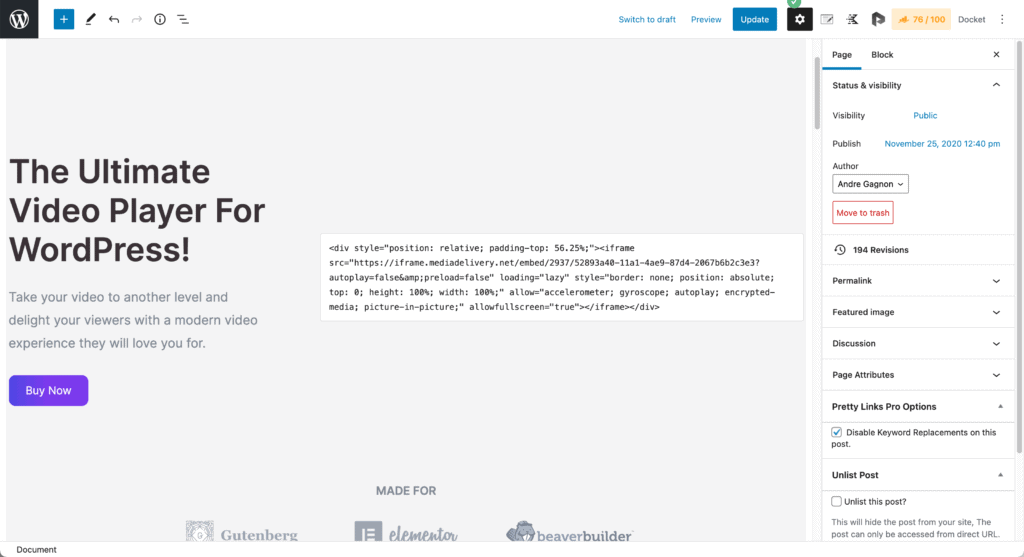 When using Bunny Stream embed codes, you are staring at code and it's hard to get the pixel perfect design.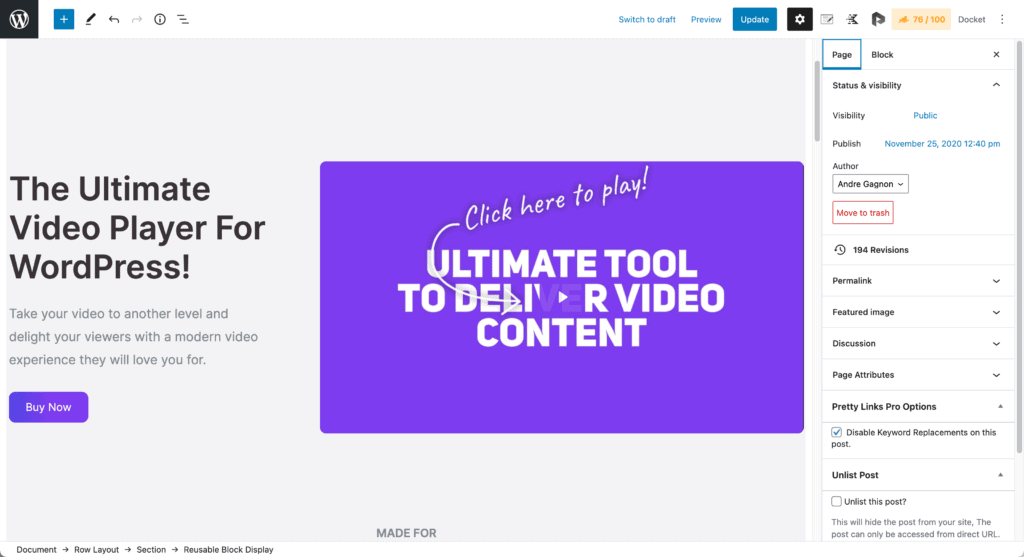 When using Presto Player in Gutenberg, Elementor, Beaver Builder, it's completely visual.
While Bunny Stream doesn't offer page builder integrations, you can create pixel perfect designs with Presto Player.
15. Automation Integrations
As I said earlier, Presto Player integrates with the best WordPress plugins, and that include the four main automation plugins.
For example, when a user views a certain percentage of a video or the entire video. When that happens, you can do useful things like this:
Add or remove a tag in a CRM
Enroll the user in a course and/or add them to a group (maybe watching an introductory video is a prerequisite to starting courseware)
Send the user an offer by email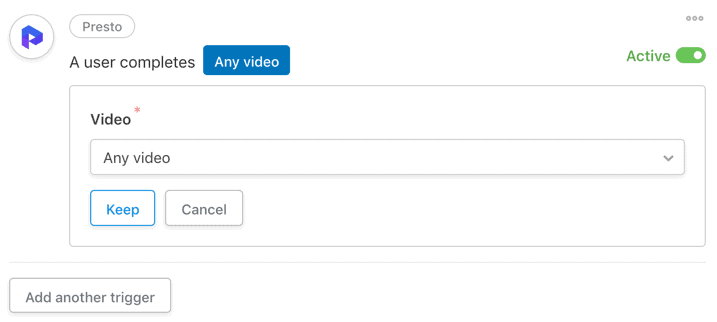 The potential here is limitless.
While Bunny Stream doesn't integrate with any WordPress plugins, you can start automating your business with Presto Player.
16. Manage Everything In WordPress
Usually when you want to add a video to your website, you are already logged into your website.
Presto Player brings all of your videos to you, where you are. There is no need to log into a different website to find a video, then find the embed code.
You can skip all of that and have all of your video at your finger tips.
There is no copying and pasting of embed codes, everything is where you need it, visually.
17. Host Videos From Any Platform
You can wrap all the Presto Player features on videos hosted on any platform.
This includes YouTube, Vimeo, random services such as Pueblito. If you video file has a publicly accessible link, you can use it with Presto Player.
18. Video Overlays: Text, Buttons, Images, & Dynamic Data
Imagine being able to display a button in a video at the precise time you talk about product? This would make it continent for the viewer to go where you want them to go.
Or how about for your online courses, being able to overlay the students name in a video to discourage screen recorders.
With our Video Overlays feature you can do that and so much more.
19. Call To Actions
Imagine being able to completely stop a video right when you want your viewer to take some action.
This can be during a video or at the end of a video.
With our Call To Action feature you can.
20. Audio Player
Have you noticed that we use the word media vs video in Presto Player? After all, we didn't name it Presto Video Player, its Presto Player!
We did this because we are working on bringing a modern audio experience to WordPress. We will be integrating all the amazing features listed above into this new audio player.
21. YouTube Subscribe Bar
Want to increase your YouTube subscribers? Want to proudly display your subscriber count for social proof.
Upcoming Presto Player Features
So there you have 21 benefits when using Presto Player.
But we are not done yet, so here is what we are working on.
1. Searchable Captions
Imagine being able to give your viewers a search button where they can just exactly to the point in a video where you said something specific.
This is our upcoming searchable captions feature.
2. Video And Audio Playlists
Group your video and audio content into convenient playlists for your website visitors.
Presto Player Loves Bunny Stream
If you made it this far we want you to know that we love Bunny Stream. That's why we built an integration for Bunny Stream into Presto Player.
If you want to have the deep features and integrations with WordPress, Presto Player offers that.
This is just the beginning of what we have planned for Presto Player users.