Halloween is just around the corner! It's time for trick or treating and scarily good WordPress Halloween deals!
The WordPress community offers Halloween deals on your favorite products to help you save big. Not wanting to be left out, we at Presto Player have decided to treat you to a sweet WordPress Halloween discount.
We are offering fantastic discounts on our Presto Player license.
We have also listed some great WordPress Halloween deals offered by our friends across the industry.
Check out all these hand-picked deals and find amazing savings to help you extend your business in the coming years.
Presto Player Halloween Deal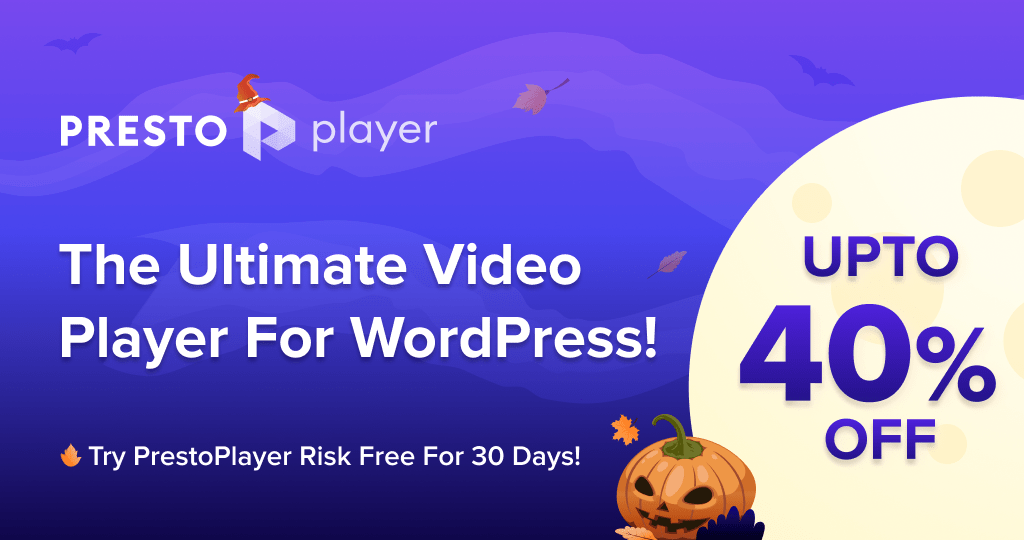 This year we are offering a huge 40% discount on both our yearly plans. This Halloween deal is also applicable to the lifetime license.
Here's how much you will save this year:
| Plan | Original Price | Discounted Price |
| --- | --- | --- |
| Starter | 99 | 59 |
| Pro | 149 | 89 |
| Lifetime | 499 | 299 |
To get these deals, simply click the button below, and we'll apply the coupon for you.
These prices are only available from October 28th until November 1st so you had better move fast!
Halloween WordPress Discounts, Deals and Coupons From Our Friends
What's Halloween without friends?
We asked our friends in the industry to share their Halloween offers. It seems everybody is joining in the fun, so we went the extra mile and collected all the sweet deals we could find.
We've listed Halloween WordPress theme discounts, deals on page builders, plugins, web hosting, addons, and extensions.
Now that you have saved big with the Presto Player Halloween deal (you have, right?), check out these deals from some of the industry's best-known names.
We are sure some of these WordPress Halloween discounts will catch your fancy!
CartFlows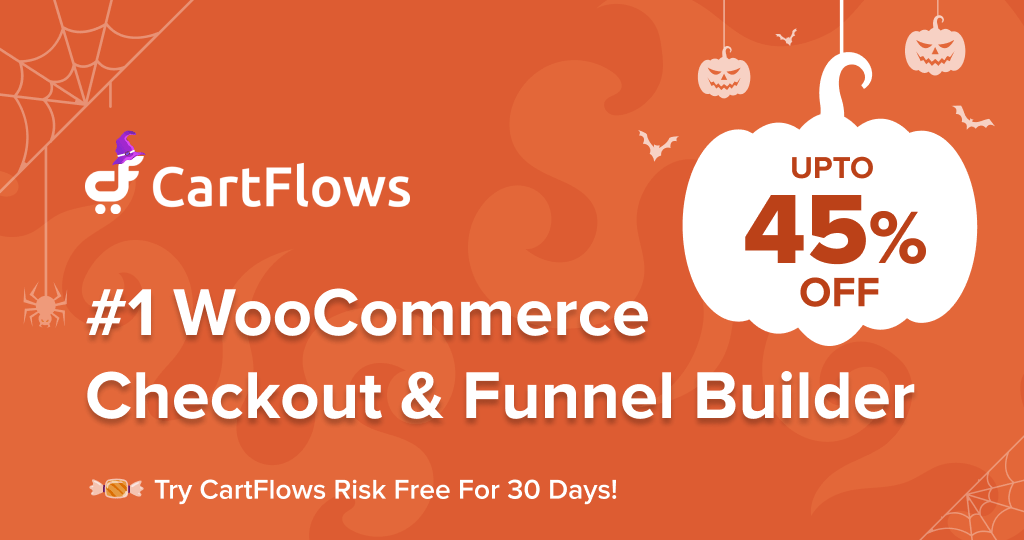 CartFlows simplifies the way sales funnels are built and integrated with your website. Whether you want to offer a smooth checkout experience or increase upsells and cross-sells, CartFlows fits the bill. Even if you're new to sales optimization, CartFlows makes it easy to set up effective sales funnels for extra profit.
This year, CartFlows is offering up to 45% off all premium plans.
ProjectHuddle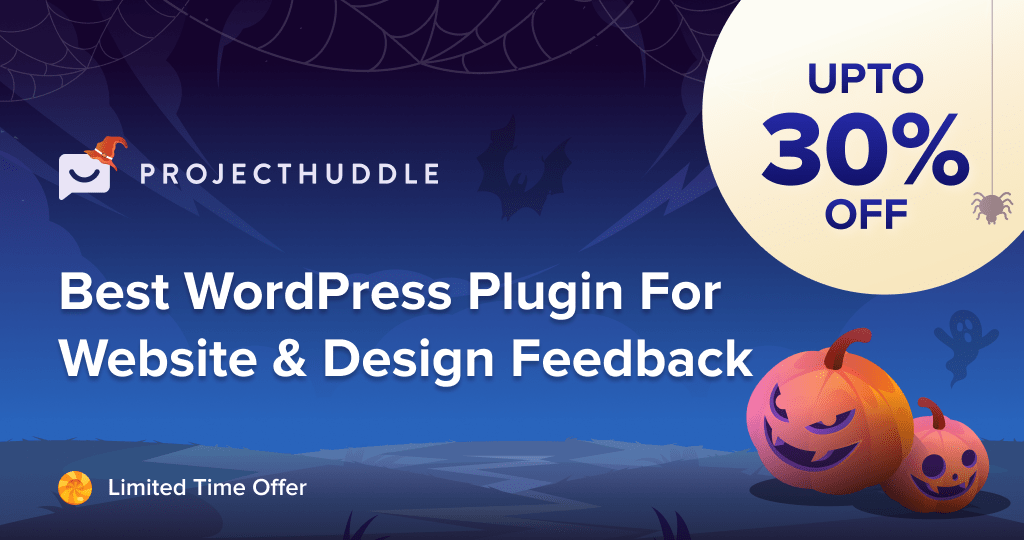 Helping you get the feedback you need to improve the design and complete the project fast is the core USP of ProjectHuddle. It enables clients to add a sticky note-style comment anywhere on live projects, design wireframes, and mockups.
ProjectHuddle is offering up to 30% discount this Halloween!
Astra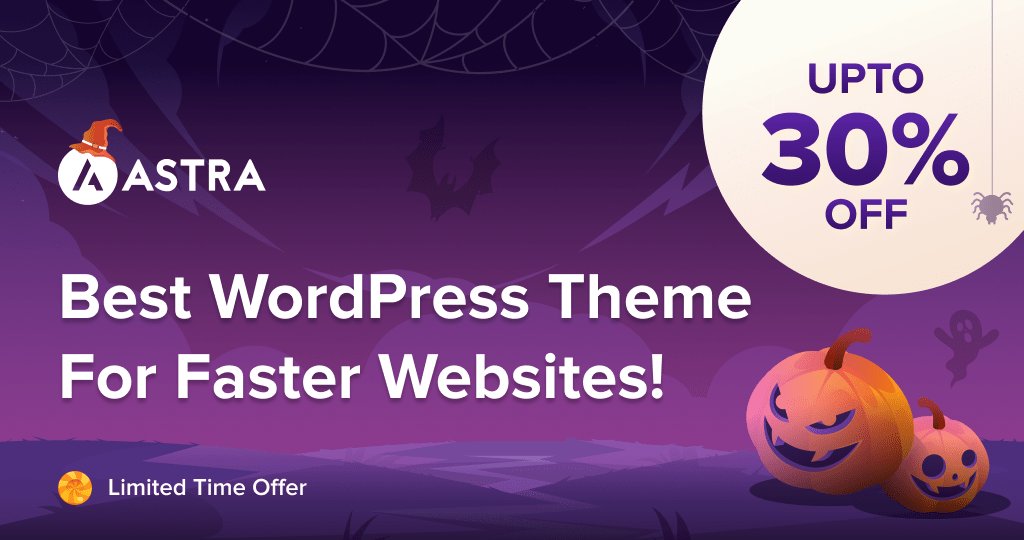 More than 1.6 million users can't be wrong! Astra is perhaps the most popular WordPress theme out there for good reason. It loads fast, looks beautiful on all screens, and comes with over 230+ Starter Templates that help you set up a website quickly.
This year Astra is offering up to 30% discount on premium plans.
Ultimate Addons for Elementor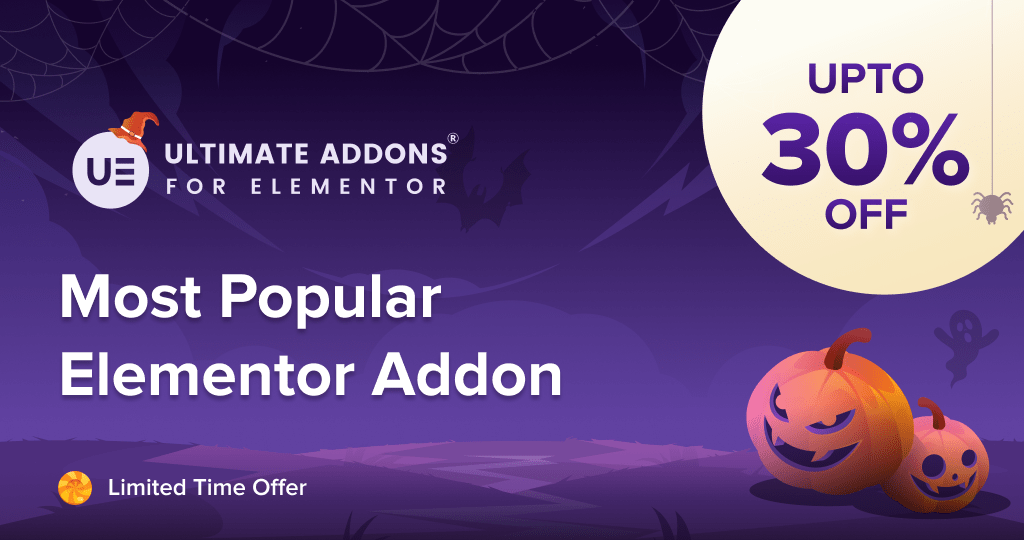 Do you use the Elementor page builder? If so, you cannot go wrong with the Ultimate Addons for Elementor. With 100 templates, 40 widgets, and 200 section blocks, you now only need your imagination and creativity to create awesome pages for your business website!
This Halloween, you can get up to 30% off Ultimate Addons for Elementor.
Ultimate Addons for Beaver Builder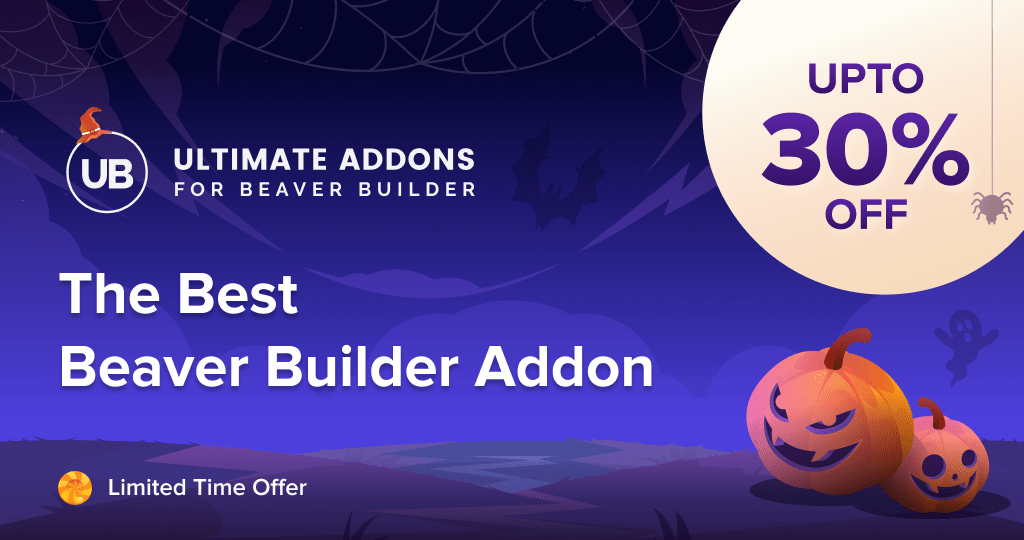 If you use Beaver Builder for your WordPress website, you must try the Ultimate Addons for Beaver Builder. With 60 (and growing) custom modules and 300 rows and page templates, you can turbocharge your development process and get pages up and running within minutes!
This Halloween, you can get up to 30% discount on Ultimate Addons for Beaver Builder.
Schema Pro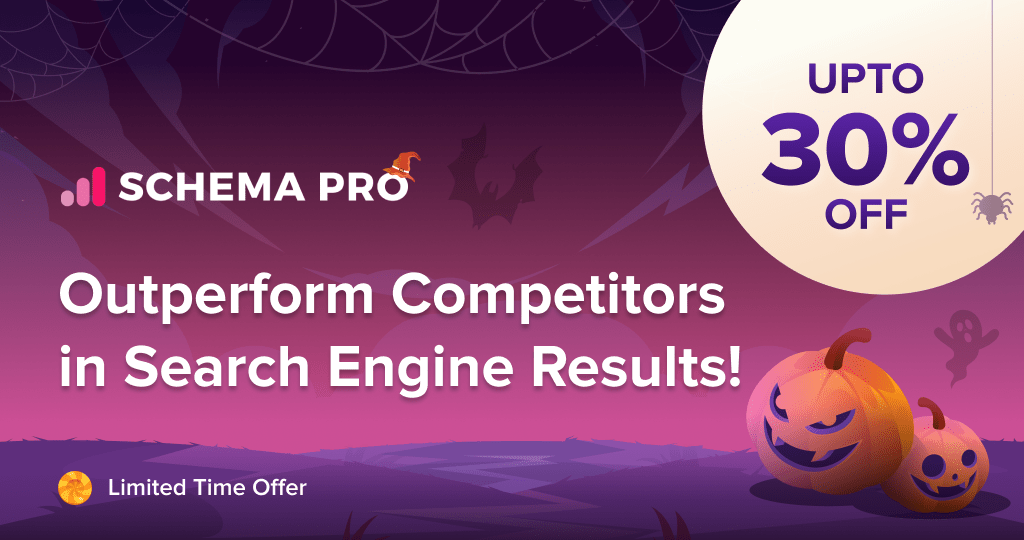 Schema Pro is a feature-rich plugin that helps you add structured data quickly and easily to your pages. As a result, you will see your pages better presented and ranked in Google SERPs.
You have the option of more than ten schema types, including FAQs, reviews, job posts, and events.
This year, Schema Pro is offering up to 30% discount on premium plans.
SiteGround
SiteGround is a well-known name in the WordPress hosting industry. It is often the first choice of business owners who need a quick and simple platform to get their websites and e-commerce up and running. Websites hosted on SiteGround load fast, thanks to the custom cache solution.
This year, SiteGround is offering up to 73% OFF on their plans.
Covert Pro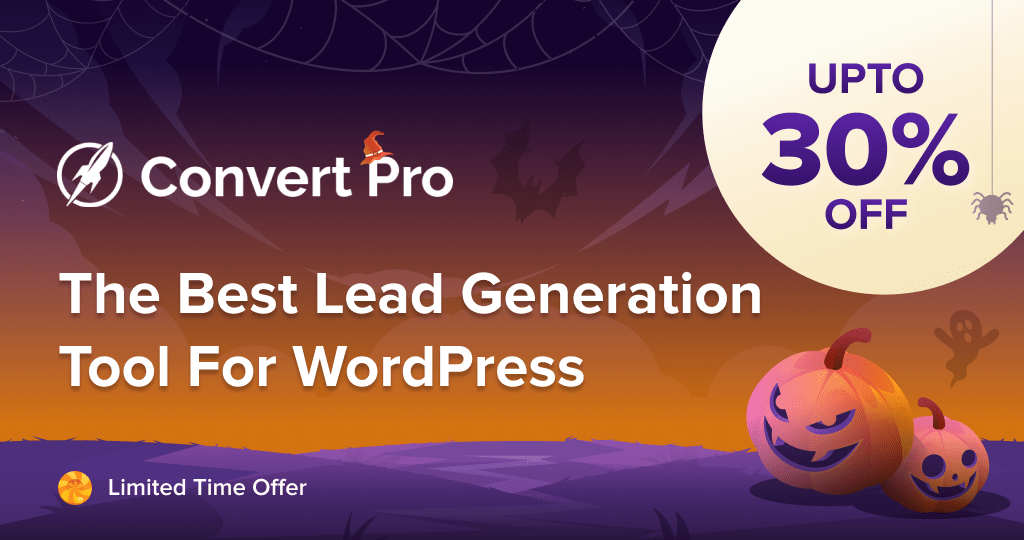 Convert Pro is a popular solution for adding popups, notification bars, and inline forms that help you collect email addresses and ask for user consent for sending the email. In addition, you can set up various triggers to show the most appropriate forms to the target audience.
This year, Covert Pro is offering up to 30% discount on all their plans.
WP Portfolio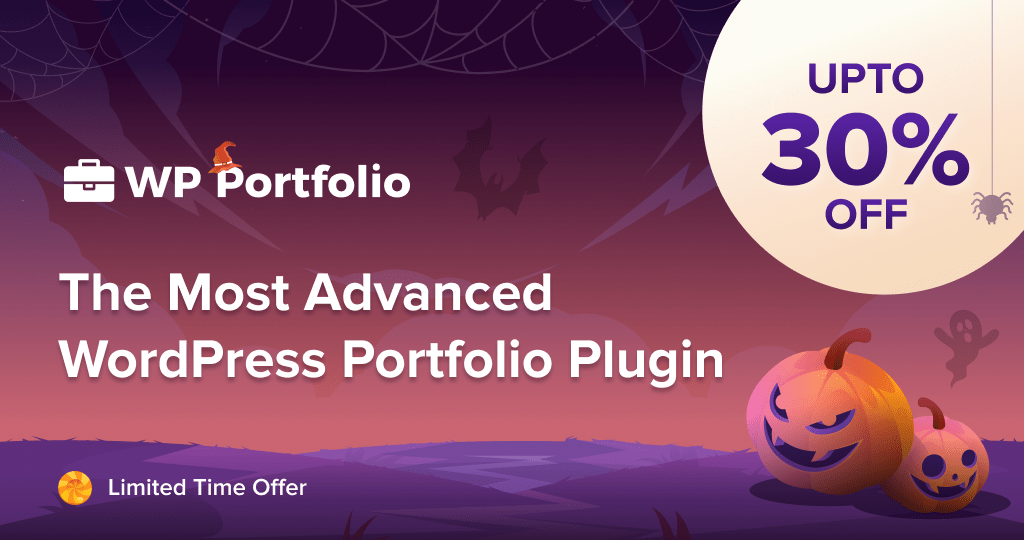 WP Portfolio is a powerful WordPress portfolio plugin that delivers the tools you need to showcase your work. It supports lightboxes, multiple layouts, shortcodes and your favorite page builder. It's the only plugin you need for showing off what you're capable of!
WP Portfolio is offering up to 30% off premium plans for Halloween.
WP Rocket
If you are in the market for a WordPress cache plugin, you should check out WP Rocket. With features such as file compression, image optimization, and cache preloading, WP Rocket significantly improves the page load time and the overall experience for your visitors.
This Halloween, WP Rocket is offering a 20% OFF on their plans.
Ninja Forms
Ninja Forms comes with all essential features for building and deploying all types of forms without investing a lot of effort into the process. The plugin is ideal for email list building and email marketing initiatives. In addition, you get advanced spam protection and payment gateway integration.
This year, they are offering a 50% OFF on all plans.
GreenGeeks
GreenGeeks is a web hosting provider that has built its reputation by offering a smooth WordPress experience. The platform offers SSD storage, SSL certificates, and a free CDN service for a blazing-fast user experience. As a result, you have a rock-solid platform for your business websites.
HostGator
If you are looking for a fast shared WordPress hosting solution, HostGator offers several great options for your business websites. The HostGator platform comes with all popular features including backups, intuitive UI, and prompt updates. In addition, you get great technical support that goes the extra mile for you.
This year, HostGator is offering up to 65% off.
LearnDash
LearnDash is a popular learning management system (LMS) that allows you to set up and sell your courses. The platform's Course Builder feature simplifies the entire process of offering bite-sized content, student management, and progress tracking. You can integrate all popular payment gateways to collect payments.
This year, LearnDash is offering a 20% OFF on all plans.
WPForms
If you need a powerful solution for integrating forms in your posts and pages, WPForms fits the bill. Thanks to the simple interface, you can create all essential forms by just dragging the required fields to the forms. You can also speed up the process by using the ready-available templates and spam protection for cleaner data.
This Halloween, WPForms is offering a up to 50% OFF.
Bluehost
Bluehost is a well-known player in the WordPress hosting niche for good reasons. Their hosting platform offers all the standard options including shared hosting and VPS hosting. You get a cPanel based interface that is pretty familiar to all WordPress users. Their customer support is just a chat or a call away.
This year, they are offering up to 70% discount on all their plans.
Wrapping Up
And there you have it!
This year, we're offering an exciting discount for Halloween so that you can use Presto Player for your project and display gorgeous-looking videos on your web pages.
To offer even more value, we also presented some great deals from our friends as well!
2022 has been tough on most of us. These deals were our way of adding cheer to Halloween, a traditionally upbeat event that signals the start of Fall and the holiday season.
Now, these deals won't be here for long, so move fast to grab them before they disappear!
If you have any questions about the Presto Player Halloween offer or just want to say hi, get in touch.
Happy Haunting!