Adding captions to your videos is a simple process but much easier to do using a 3rd party service.
We use HappyScribe because their service is very affordable and the interface is flexible. However, there are many services available to create captions.
What you will need is your caption in VTT format.
You can also create your own captions. HappyScribe also offers a free VTT editor tool for you to make your captions manually.
Once your captions are ready, download your VTT file, and follow these steps to add captions to your video:
Step 1 – Start editing the page or post where your video is located, and click on the Presto Player Block;
Step 2 – In the settings bar above the Presto Player block, you will notice the "CC" button. Click on it and then on "Upload";
Step 3 – Next, fill in the "Label" field where you should add the name of the language that matches the language of your captions. Also, you need to add the "Source language" which is the two-letter language code (e.g., "en" for English). Click "Close" to save changes;
Step 4 – Now, you will see your captions available in the list.
You can add multiple languages the same way. This way, your users can change the language of the captions on your video.
Optionally, you can enable muted video preview with captions. To do this, continue with these steps:
Step 5 – Check your Presto Player block settings in the sidebar. Under "Video Settings", you can enable the "Muted Autoplay Preview" option. This will autoplay your muted video for the users;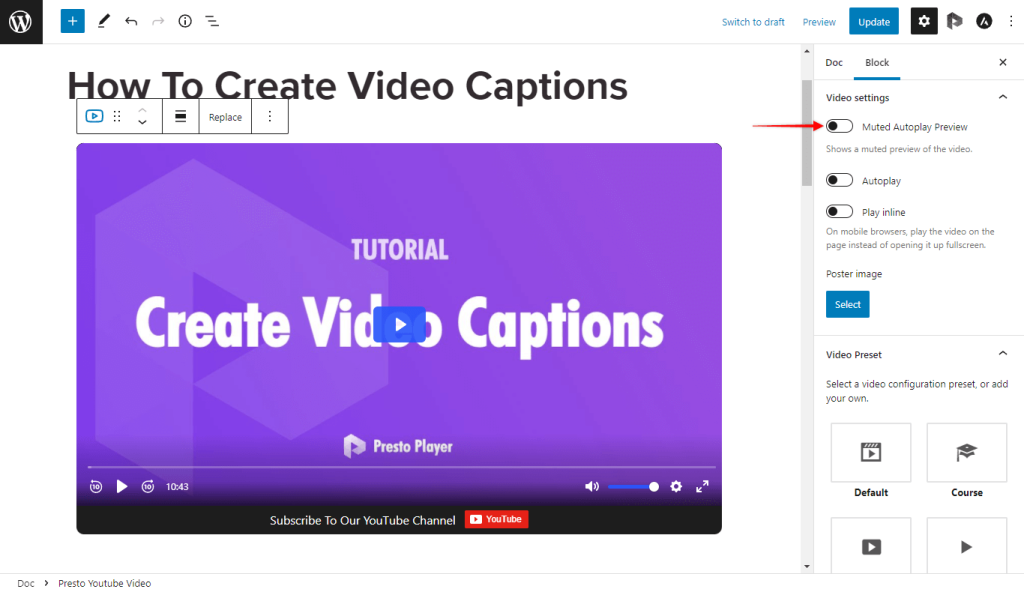 Step 6 – To add captions to your muted video, enable also the "Muted Preview Captions".