Since Presto Player version 1.8.0, you can add timestamps for your videos and audios, and improve user experience. Simply add the Presto Player timestamps shortcode to your page content.
Timestamps are also called "jump links". Their purpose is to allow users to jump to specific parts of the video or audio instead of listening to the whole recording. Also, you can adding timestamps
How To Add Presto Player Timestamps?
To add Presto Player timestamps to your Gutenberg-built post or page, follow these steps:
Step 1 – Start editing your post or page with Gutenberg. Here, click to add blocks, search for the Presto Player block you need, and add it to your page or post.
Step 2 – In the top-right corner, click on the "Presto Player" icon to open the Presto Player panel. You will find the shortcode under the "Timestamp Shortcode" section;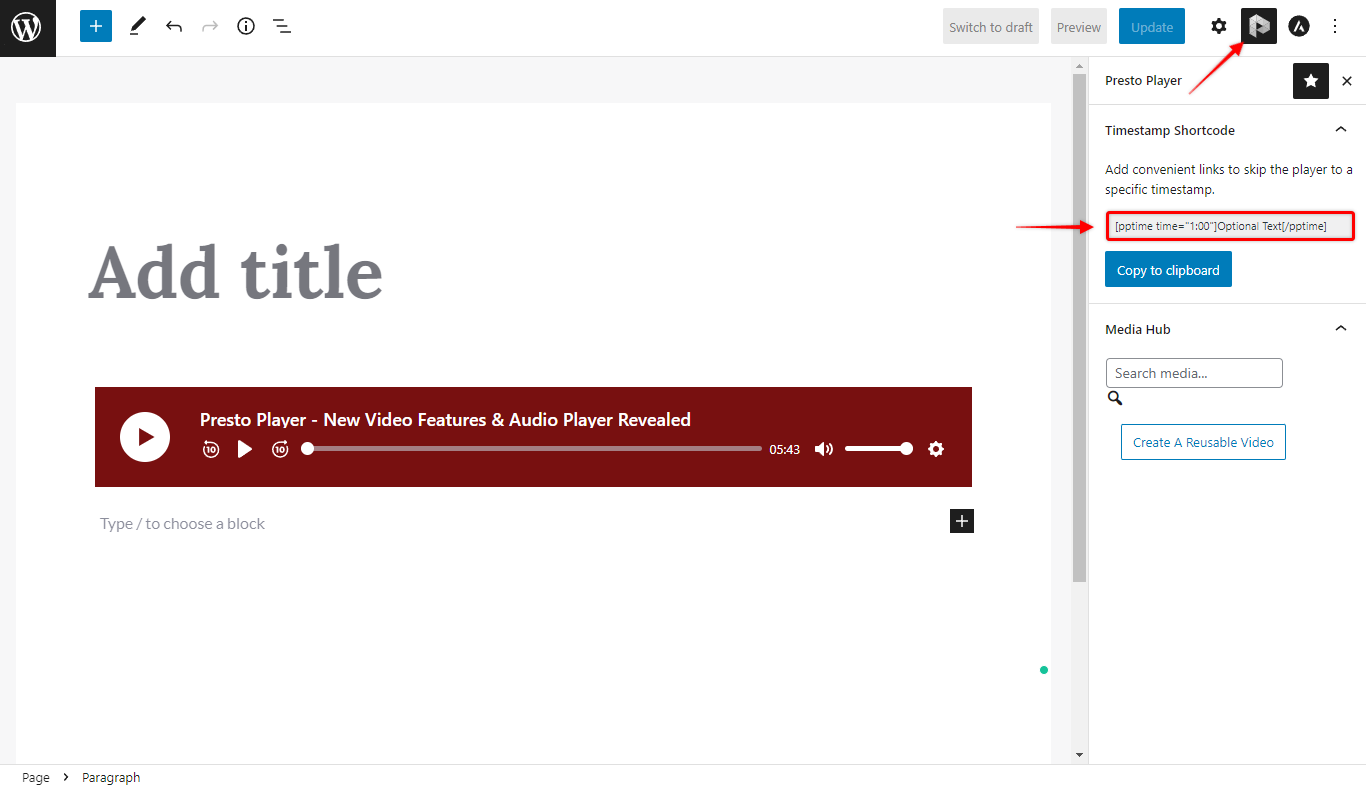 Step 3 – Copy the shortcode and add it to your content using the "Paragraph" block. Here, replace the dummy text (Optional Text) with the timestamp title. Next, modify the "time" argument (time="1:00″) and replace the dummy time with the exact time for your timestamp;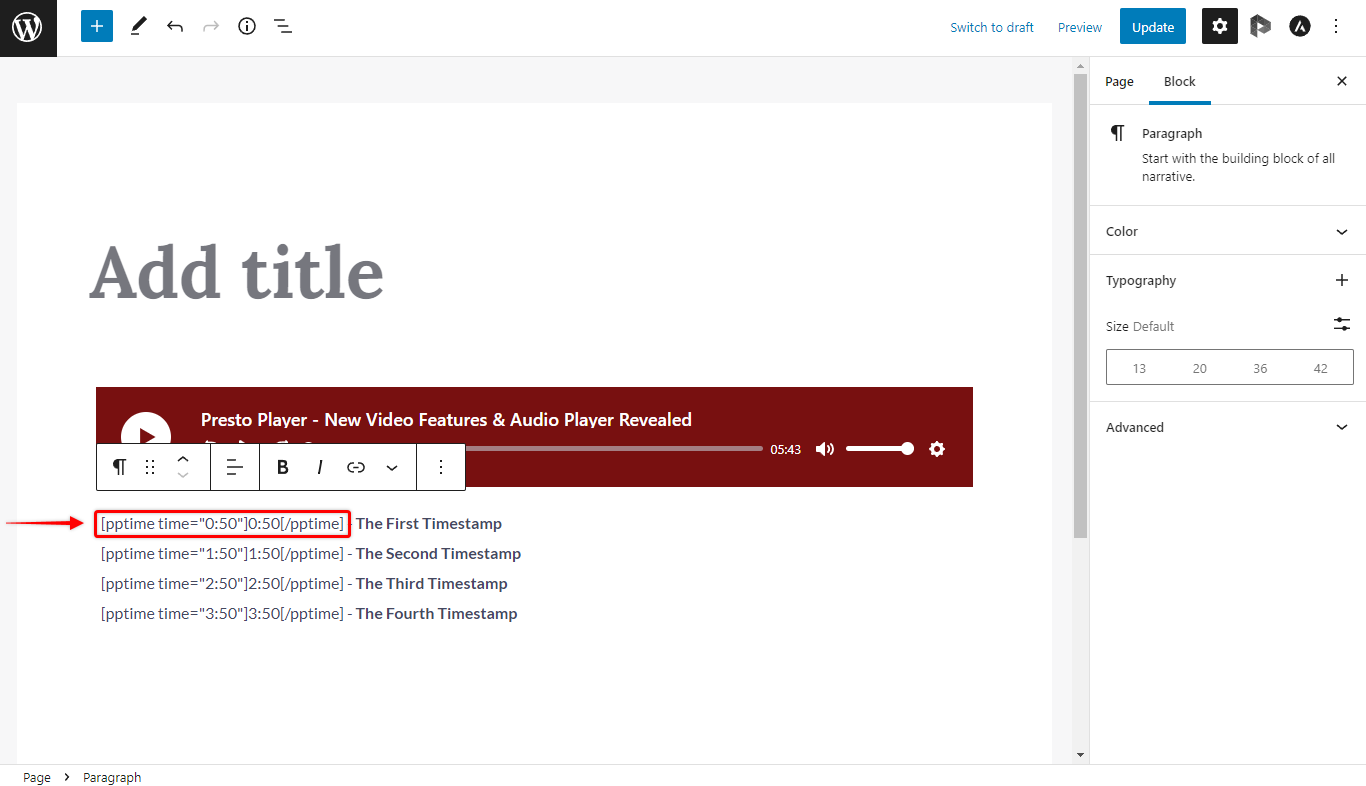 Step 4 – Now, drop to the next line within the "Paragraph" block. Repeat the previous step for each timestamp you wish to add;
Step 5 – Click the Update/Publish button to save changes.
You can add timestamps for any Presto Player block. Keep in mind that timestamp works well only if you have one video or audio on the page.
Styling Timestamps
Once you have added your timestamps, you can style them as any other text within the Gutenberg "Paragraph" block.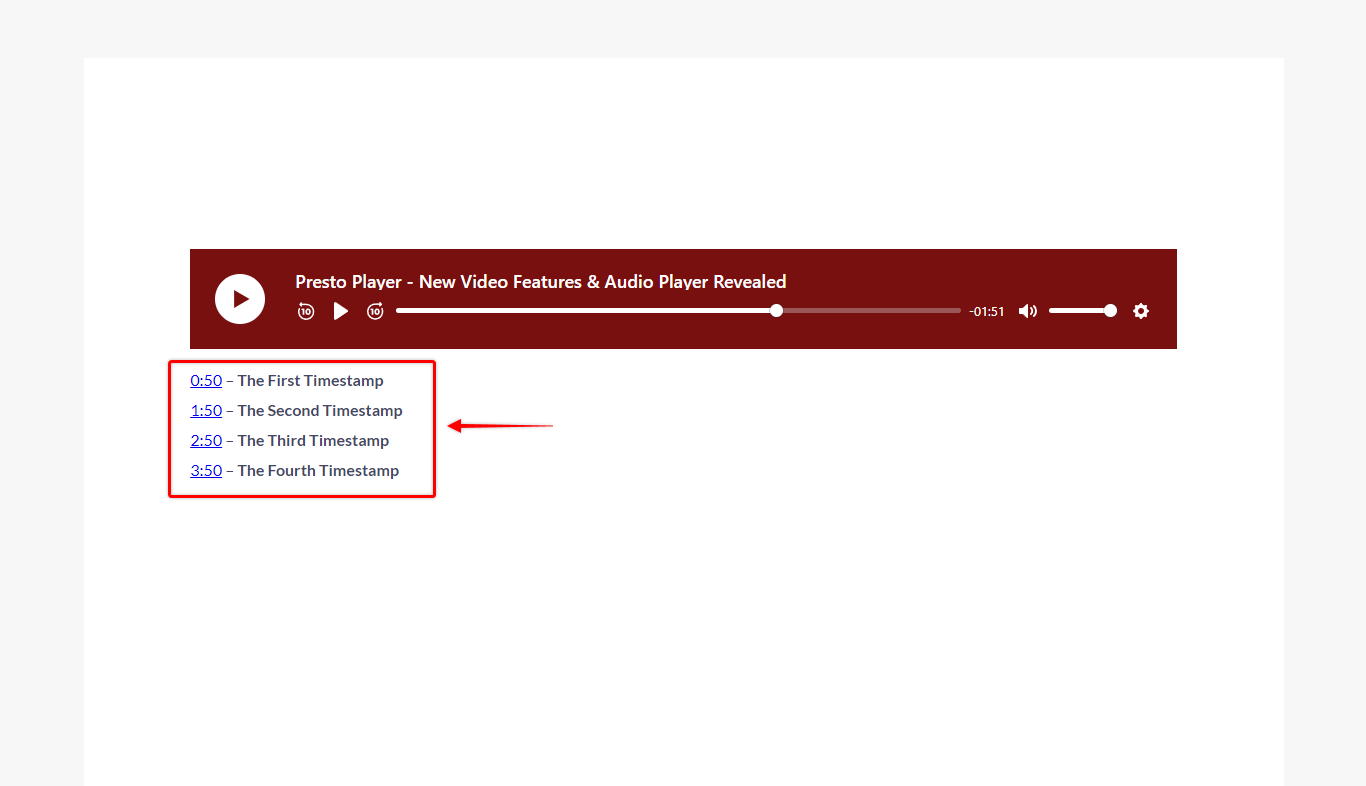 Further, you can use and style the timestamp shortcode with other Gutenberg blocks (e.g., tabs, accordion, etc.).
Also, the shortcode will work with most page builder text elements (e.g., Elementor's "Text Editor" widget or Beaver Builder's "Text Editor" module).